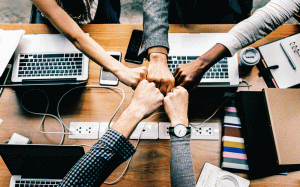 QandaPress is the cornerstone of a successful knowledge management strategy that organizations must incorporate into their company culture both internally and externally.
The vast majority of knowledge workers welcome career growth opportunities and are looking to their current employer to prepare them for their next position in their career path. If you are looking to give your workers the tools they need to be successful at growing your business, the QandaPress Question-and-Answer application provides on-going education and training to employees and helps to develop talent to promote to higher positions.
The QandaPress Question-and-Answer platform provides an easily implementable solution in the areas of Knowledge Gathering and Knowledge Sharing.
Thinking about the benefits of better knowledge gathering practices such as quickly finding correct answers, sharing the answers acquired during an employee's tenure or marketing one's know-how to other members all lead back to extracting value out of ongoing investments in knowledge management.
QandaPress helps to create a rich and dynamic networking environment in which information is shared, developed and evolved. QandaPress offers tremendous opportunities such as increased productivity and business effectiveness, higher end-user engagement, increased lead generation, reduced support costs and other tangible benefits throughout any organization.
Knowledge Gathering: A Question-and-Answer directory that facilitates access to shared knowledge.
QandaPress is built on the idea of getting information out of people's heads, and into a really useful and valuable online Question-and-Answer directory. Instead of typical forum answers with long threads, end-users rely on QandaPress to ask questions and get definitive answers, or to search for previously asked questions.
Implementing a Question-and-Answer directory will transform and remake the way your employees work across the board, especially how they troubleshoot and resolve issues, operate their functions, offer customer support, and much more.
Knowledge Sharing: Creating measurable & shared value for customers and employees.
In the past, businesses have had to rely on direct mentoring as a primary way to provide successful knowledge transfer during employee transition or on-the-job training. QandaPress is a powerful supplement that removes many of the constraints of person-to-person interaction and long-distance mentoring.
QandaPress provides one centralized location for managing activities such as filing, sharing and collaborating on answers, helping knowledge workers become actively engaged in a sustainable learning process while developing valuable skills that will benefit them for rest of their business lives.
With an archived directory of questions and answers, employees from different departments can expand their knowledge base, giving them opportunities to grow and become more informed for their own sake and for those of the company.